As this was at one time my favorite movie genre, I've come to find out that I like my mob movies a little unconventional. This is why those like
Goodfellas
and
Casino
don't make the list. I know most people consider the former the greatest mob movie ever made, but I appreciate the more subtle efforts, in which the first two
Godfathers
really paved the way for and set the bar high for every mob/mafia movie that followed.
10. The Outsider (2018)
I'm not a Jared Leto fan, but he chose a really good one here - one that will unfortunately fly low under the radar. He stars as Nick Lowell, an American POW imprisoned in Japan. When he saves the life of stranger Kiyoshi, Kiyoshi then owes Nick his life in a culture driven by honor. Kiyoshi is an underboss in the Yakuza, the Japanese mafia, and vouches for Nick to come in and work for the organization. He takes the culture to heart, tattooing his upper body in the Yakuza style, chopping off a finger and giving it to his boss when he fails, and falling for Kiyoshi's sister, Miyu. It's a shame that more people don't know about this Netflix original.
9. 10th & Wolf (2006)
I didn't know Giovanni Ribisi was such a good actor until I saw
10th & Wolf
. It's about the Italian-American mob in Philadelphia, and the Italian-Americans' civil war with the Italians mafia from Italy, attempting to move in on their territory. Ribisi stars as Joey, a boss who's unpredictable and foul-tempered, especially toward the cliche expectations of the Italian mafia experience. Tommy (James Marsden) is really the star, though Ribisi steals the show. Brad Renfro and Piper Perabo chip is some solid performances, and Val Kilmer even has a cameo as a disgruntled veteran. The only complaint here is the Brooklyn accents for what is supposed to be Philly natives. The filmmakers and actors should have tried a little harder to obtain the local brogue.
8. Monument Ave (1998)
This a high drama with enough comedic flare to make you scratch your head. But, the drama is very thick, with Bobby (Denis Leary) losing one friend and cousin after another to Boston Irish-American crime boss Jackie O (Colm Meaney). Bobby steals cars for Jackie O, but he's also cozied up to his girl, Katy (Famke Janssen). Nobody talks to the cops, or so Jackie O maintains, and anyone even suspected of doing such meets with the proverbial gallows. Afghan Whigs' Greg Dulli plays Jackie O's mob enforcer Shang, who soon gets his from an unlikely source.
Monument Ave
is funny and tragic and real, the violence gritty and unpredictable. The movie is so indie that it doesn't have a trailer.
7. The Untouchables (1987)
Roberto DeNiro was so good at playing Al Capone in
The Untouchables
, it really makes me want to see the new biopic starring Tom Hardy to compare the two. This movie is not the most historically accurate, but it's entertaining nonetheless, with the stoic Eliot Ness (Kevin Coster), the street tough beat cop-turned G-Man Jim Malone (Sean Connery), and Jewish-American sharpshooter George Stone (Andy Garcia) taking on the forces of old Scarface himself. I love the noirish score for this one too.
6. Road To Perdition (2002)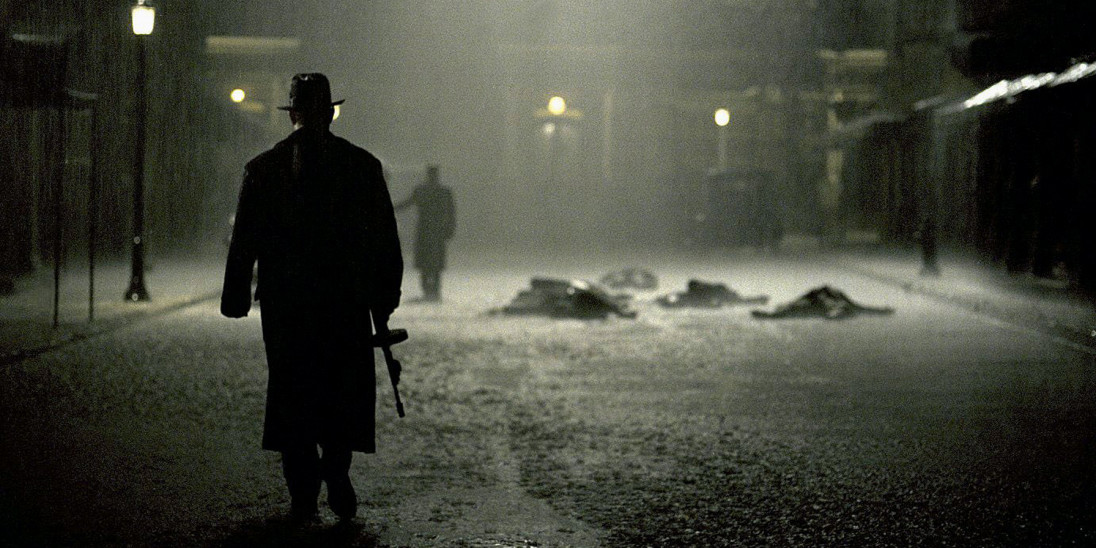 Tom Hanks stars as Michael Sullivan, an enforcer in the Depression-Era Chicago Irish-American mob. When his son, also Michael, witnesses a mob killing, Connor Rooney (Daniel Craig), orders the murders of Michael's wife and youngest son without the consent of his father, boss John Rooney (Paul Newman). This sets Sullivan on a road to vengeance, with death photographer and hitman Maguire (Jude Law) hot on his trail.
5. The Departed (2006)
The Departed
is an American remake of the Chinese film
Internal Affairs
, an ultra-complicated take on Boston's Irish mob, the FBI suits attempting to take them down, and the few who fall in-between. Billy Costigan is fresh out of the academy when he volunteers to go undercover into the organization of Frank Costello (Jack Nicholson), who later tells Billy that Frank Costello isn't his real name. Costello, and the movie in general, is based on Whitey Bulger and the FBI informant work proposed by John Connolly, a childhood friend of Bulger's. This is a grim story with a grim ending, but it does show that every rat eventually finds the trap.
4. Last Man Standing (1996)
If you don't know Irish surnames, you'd never know John Smith (Bruce Willis) was taking on the Irish mob in this one. Smith is a lowly drifter during the Great Depression, passing through the Texas dust town of Jericho when opportunity presents itself. He stumbles right into the middle of an Italian-Irish gang war for control of booze shipments from Mexico. Smith and the mob members are all from the big city, but in this noirish Depression-Era Western, they duke it out on the dusty streets of a tumbleweed nightmare. This is best movie, besides maybe
Die Hard
, that I've seen from Bruce Willis.
3. The Godfather: Part II (1974)
We fell in love with antihero Vito Corleone in the first Godfather, so in the sequel, we get to see his rise to power, from orphaned little boy in Corleone, Sicily, to becoming the king of Little Italy, NYC. All of this while we get see his son, Michael, attempt to expand the organization to Tahoe and Miami in a unique way, ahead of its time in a prequel and sequel in one. If it had been up to me, Part II would have been the prequel, and Part III would have been the sequel, leaving the family's affairs with the Catholic Church out of the equation completely.
2. The Godfather (1972)
What I love about
The Godfather
movies, besides their being well ahead of their time, is that the word mafia or mob is never mentioned. It's only referred to as "the family business", which really works in this flick that probably should be at the tiptop of this list. This movie is critically-acclaimed for a reason, a sweeping family saga in the midst of an organized crime opus, one in which we see the head of the business switch to an unlikely source. The christening scene toward the end is one of the best in cinematic history.
1. State of Grace (1990)
State of Grace
is my favorite mob movie, and it's mainly because of Gary Oldman's performance as Jackie Flannery. Sean Penn is also great as undercover Boston cop Terry Noonan, who agrees to return to his native Hell's Kitchen, New York City to infiltrate the Irish mob run by his childhood friends, brothers Jackie and Frankie (Ed Harris). He wants to do the right thing, but he's getting himself in too deep, betraying the best friend he's ever had in Jackie, and Jackie's sister Kathleen (Robin Wright), his old flame. The shootout at the end is the best I've ever seen in any movie, mixed into a montage with NYC's St. Patrick's Day Parade.