This is a list that should have compiled years ago. It took a minute to finalized the list, as so many bands and so many songs have touched me in my lifetime. From the ones I discovered in high school to the ones I ran across as late as 2015, these are the finalists for my favorite bands of all time.
10. Interpol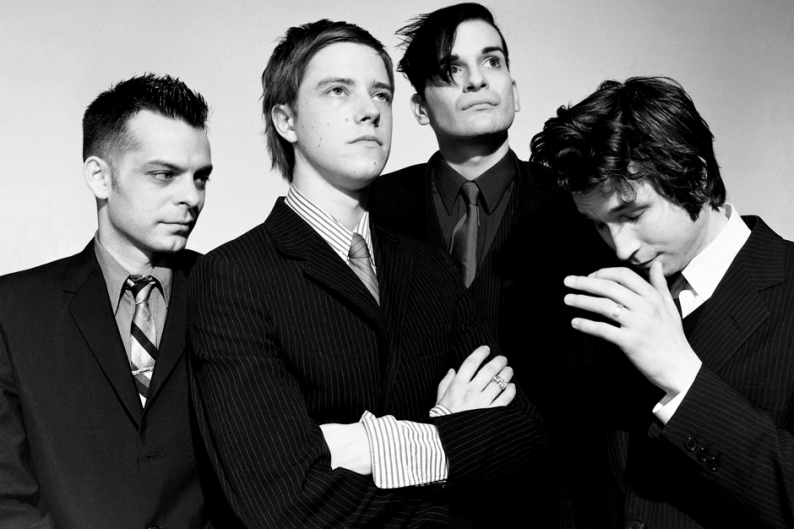 I first came across the New York City rockers in 2002. I jammed to the post punk guitar licks and up beat drum sounds of Interpol, who at one time graced every one of their live shows in matching blacking suits. Their debut album,
Turn On the Bright Lights
. It captured the essence of NYC, especially on tracks like "NYC," and like "Untitled," both of which boast an ethereal reverb and delay guitar effect that alludes to the infinite beauty of the twilight city lights.
The band returned in 2004 with
Antics
, which featured gems like "Next Exit," a pensive block party theme for the ages, "Evil," and the sensitive post punk offering of "Not Even Jail." Like
Turn On the Bright Lights
,
Antics
got a lot of playing time in my CD changer when it first came out. Since, the band have released four more albums, including the latest, 2018's
Marauder
. To the right is a standout track from called "The Rover."
9. Portishead
When Portishead dropped their debut album
Dummy
in 1994, I was completely floored. The English three-piece, naming themselves after their hometown haunt, served up haunting vocal work, intricate, sinister, spaghetti western guitar work, and hip hop beats to go with rap staple record scratches. The band all but defined the trip hop genre, the best to do it out of the bunch (Tricky, Massive Attack, Sneaker Pimps).
Dummy
featured standout tracks like the moody "Sour Times," girl power anthem "Glory Box," and the lulling lullaby, "It's a Fire."
The band returned in 1997 with a self-titled album, darker in feel with tunes like the eerie "Cowboys" and "Over," and the gravely potent love ballads "Only You" and "All Mine." The band left fans waiting on their third album, appropriately titled in
Third
, in 2008. The record introduced a different feel altogether, especially with opening track "Silence," which sounded like it was scored for a 70s cop show chase scene. The rest of the album explored the avenues of their sound previously undiscovered, defining them as everyone's favorite elusive trip hop trio.
8. Exitmusic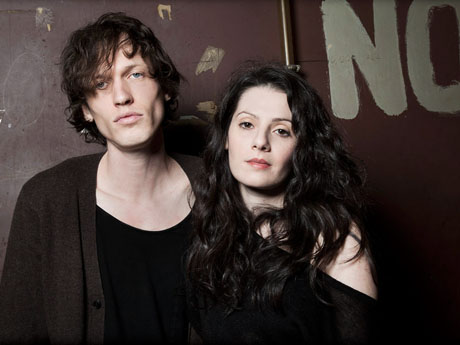 Though Exitmusic dropped their first album in 2007, I didn't discover the duo until 2015. Their 2012 album
Passage
is one of my favorites of all time, ethereal and visceral and emotive. The husband and wife team of Aleksa Palladino and Devon Church are sadly no longer a husband and wife team, but that didn't stop them from releasing 2018's
The Recognitions
, a nine track opus to their crumbling but still amiable relationship.
Passage
was a game changer for me, putting the band onto my map with standout tracks like "Passage," "The Night," and "White Noise."
While the band surely evolved musically in the six years between albums,
The Recognitions
featured a few
Passage
-like tunes in "Trumpet's Fade," "Iowa," and "Closer." They were certainly still Exitmusic in sound, peeling back their swarthy shades of their debut album, the mediocre
Decline of the West
. Exitmusic has only released three albums, but the latter two are so good that it places the duo on my all-time list, for their ethereal, feral sounds and the tragic love story that unfolds within the lyrics.
7. Deftones
Deftones first came on the scene in 1995 which their tinny, blistering album
Adrenaline
. They only improved from there after being roped into the nu metal scene alongside Korn and Limp Bizkit, introducing melody to their brutal brand of metal.
Around the Fur
was a concept album by any other name, and my personal favorite Deftones album, only to be followed up by canon high point
White Pony
. Singer/screamer Chino Moreno's lyrics were obscure but metaphorical, his feral scream intermittently soothed over by his cool, calm croon.
Saturday Night Wrist
was released next, which offered highlights "Cherry Waves" and "Beware," followed by albums
Diamond Eyes
,
Koi No Yokan
, and 2016's
Gore
. It's too difficult to pick a favorite Deftones album, as
Around the Fur
,
White Pony
,
Saturday Night Wrist
, and
Koi
all feature stellar tracks. Deftones have been a core part of the heavy music business since 1995, keeping hold to their essence, best compared to the eye of a storm. The brutality of the tempest is soon met with the calm reassurance of the beauty found in chaos.
6. Beach House
I first heard Beach House back in 2014 with a single from their 2012 record
Bloom
called "Wishes." It captured a sort of 50s rocker gloom that might have serenaded a melancholic drive out to Inspiration Point. The electric duo of Victoria Legrand and Alex Scally had charmed me well with
Bloom
tracks "Wishes," which features one of the best segments of instrumental music I've heard, and "Myth," which also features one of the other best segments of instrumental music I've ever heard.
As if Beach House couldn't have gotten any better, their next album, 2015's
Depression Cherry
, ranks among my favorite albums of all time - number seven on my list to be exact. I've seen the band live twice, and both times, they kicked the night off with the album best "Levitation," which ranks as one of the greatest songs I've heard. Beach House followed up
Depression Cherry
with
Thank Your Lucky Stars
and
7
, both showing that the two-piece dynamo had no plans of slowing down. From 2010's
Teen Dream
, the infinitely elegant "Walk in the Park" in posted to the right.
5. The Autumns
The Autumns were a band introduced to me by a couple of friends back in '97. They first recorded a couple of tracks for me from the band's first LP,
The Angel Pool
. When I fell in love with the tunes, I then had to have my own copies, finding that The Autumns first released an EP called in 1996 called
Suicide At Strell Park
, which featured one of my favorite all time songs, "Pale Trembles a Gale." Labeled as dream pop/shoegaze and influenced by bands like Cocteau Twins, The Autumns remained LA indie darlings for years to come.
Next, the band released LP
In the Russet Gold of This Vain Hour
, an album that saw them give up their dreamy reverb and delayed guitar effects for a cleaner sound altogether. The band released two EPs in the coming years, one a tribute to '50s duwop bands, and one a four-track cover album, featuring "Please, Please, Please" by The Smiths. The band put out their third LP in 2004, a self-titled effort that saw a triumphant return to their dreamy soundscape. The best track was the one posted to the right, "Deathly Little Dreams." The band released one last album,
Fake Noise From a Box of Toys
, in 2007 before officially calling it quits.
4. Coldplay
I first came across Coldplay when their debut album
Parachutes
dropped on American soil. I fell in love with the album, and the first single from it, "Yellow." The album was full of debut gems, filled with INFP anthems written by famous INFP Chris Martin.
Parachutes
ranks among one of my favorites of all-time, and following it, the band continued to hit gold, achieving worldwide commercial success.
A Rush of Blood to the Head
served up such hits as "Politik," "In My Place," "Clocks," and "The Scientist." Martin and company had locked in on heartfelt, melodic masterpieces to make the world sing.
The band release
X&Y
in 2005, introducing hits like "Fix You," "Talk," and "Speed of Sound," and endearing love ballads "Swallowed in the Sea" and "Kingdom Come." In 2008,
Viva La Vida
came to us, featuring the tracks "Strawberry Swing," and one that coincided with the birth of my son, "Lovers in Japan." With the next three albums, there were still shades of the old Coldplay, but we saw a real departure from the old one. More time spent on mainstream airwaves saw to a more mainstream sound, which was highly disappointing. I understand that they were toying with their style a bit and trying new things, but the heartfelt magic was seemingly gone.
3. Smashing Pumpkins
I first encountered Smashing Pumpkins when they were still called Smashing Pumpkins, as opposed to The Smashing Pumpkins (which never quite stuck for me). I first encountered their
Siamese Dream
album in high school, which has remained a favorite of mine. It ushered unique vocals and searing guitars, melodic chimes and whimsical music videos, which gave us a glimpse of singer/songwriter Billy Corgan with hair. I then discovered their b-sides and rarities album,
Pisces Iscariot
before they released grand scale double album in 1995,
Mellon Collie and the Infinite Sadness
.
Mellon Collie
was a definite departure from the
Siamese Dream
Pumpkins, with more fantasy-like anthems and piercing metal wallops. It was still good overall, but it took some getting used to. I saw them live twice on the
Mellon Collie
tour. The Pumpkins next released
Adore
in 1998, a subtle continuation of
Mellon Collie
with hits like "Ava Adore," "Perfect," and "Crestfallen." Then came
Machina/The Machines of the Gods
in 2000, with excellent tracks "The Everlasting Gaze," "Raindrops and Sunshowers," "Stand Inside Your Love," and "This Time," which is posted to the right.
2. Placebo
Like Coldplay and Smashing Pumpkins, Placebo started strong and tapered off toward the end. I first discovered the band after their 1998 sophomore album,
Without You I'm Nothing
, which is still my personal favorite album of all-time. It featured gems such as "You Don't Care About Us," "Ask For Answers," "Without You I'm Nothing," "Every Me Every You," and "My Sweet Prince." During the time, singer Brian Molko was highly inspired, his guitar riffs and musical composition magical, and his lyrics metaphorically poetic.
I couldn't wait for their next album, so I went out and bought their debut 1995 self-titled album, featuring tracks like "Come Home," "Bionic," and "36 Degrees." Their next album was 2000's
Black Market Music
, and while it had a few weaker tracks on it, there were also stellar ones in "Taste in Men," "Days Before You Came," and Slave To the Wage." 2004 saw the release of
Sleeping With Ghosts
, which boasted a host of somber tunes like "This Picture," "The Bitter End," "I'll Be Yours," and "Centrefolds."
Meds
, their last great album, was released in 2006. Afterward, the band put out a couple more decent but wholly inspired efforts.
1. Jeff Buckley
Where to start with an artist like Jeff Buckley? He's one of those once in a lifetime sort of singer/songwriters, and while he never achieved the mainstream success of his inspirations Led Zeppelin and Bob Dylan in his living years, he has now obtained a posthumous cult following that drools over every new composition his estate releases. Jeff, the son of the legendary Tim Buckley, released his debut album, the watershed
Grace
in 1994. It featured a slew of originals and covers, some highly unexpected like "Corpus Christi Carol" and "Lilac Wine."
While taking a break from recording his follow-up album,
My Sweetheart, the Drunk
, Jeff tragically drowned in the Wolf River, a run-off of the Mississippi, in the spring of 1997. RCA Records and his mother eventually released
Sketches For My Sweetheart, the Drunk
, a incomplete double album which included a full ten-song record, plus "sketches" recorded by Jeff on a four track recorder. A series of live concert albums were released after Jeff's death, as well as well as a 2016 b-sides, rarities, and covers album in called
You and I
. Just this year, a 1996 demo version of "Sky Blue Skin" was put out for Jeff's adoring fans.