I made this list a few years ago, though I enjoyed looking at it so much, it got a little stale. Plus, a new band with a new album entered my life and forced its way onto this list. Speaking of the list, it covers the gamut of the hardcore genre - hardcore punk, metalcore, mathrock, thrash, and grindcore. Heavy underground music first entered my life in 1997, and since, it's played a seminal role in my life. Many wouldn't agree with the direction of my list, or the order, but there are certain things I tend to look for when it comes to heavy records. Here are my revamped top 10 favorite hardcore albums of all time.
10. Die On Mars - The Callous Daoboys (2019)
The Callous Daoboys, an obvious play on the NFL team the Dallas Cowboys, entered my life just recently, and since peeling off the onion layers of this album, I've listened to little else. There are several elements that make this album, and this band in general, special. For one, the sextet features two females, one on guitar and the other on electric violin. For another, vocalist Carson Pace takes some serious chances with his vocal style, which comes off equal parts old school Every Time I Die, Dillinger Escape Plan, and The Chariot. Lastly, while the band clearly wears its influences on its sleeve, it ventures into unexplored territory with manic screams and whimsical yells, odd little interludes, and the breakneck pace of the Daytona Speedway.
Die On Mars is solid from beginning to finish, well-orchestrated while commenting on overzealous evangelicals and the pretentious tendencies of socialite status. The Daoboys have a great sense of humor in doing so, which is presented in full on their videos for standouts "Fake Dinosaur Bones" and "Blackberry Delorean." I was pleased to find that the Daoboys had already found their genre groove by 2017, when they released two very solid EPs, Animal Tetrus and My Dixie Wrecked. The ATL band flaunts their Dixie home state for sure, but in unconventional ways. "Blackberry Delorean" ends with Carson Pace screaming at us to "stay out of Georgia." This is the most fun I've had listening to a hardcore record since Every Time I Die's 2003 gem, Hot Damn!
9. The Shape of Punk to Come - Refused (1998)
Scandinavia, and Sweden to be more specific, has two particular brands of hardcore. It usually revolves around a Norwegian metal sound, and the post punk stylings of bands like Blindside, Selfmindead, and the band who inspired those two to exist, Refused. The band first came to my attention with their video for "New Noise." I then bought the album to find it filled with intricately creative guitar riffs, sound clips, and a general attitude of revolution. This album is a revolution in itself, as Refused stumbled onto something all their own here.
The album kicks things off with "Worms of the Senses/Faculties of the Skull," where the four-piece "took the first bus out of Coca-Cola City." Throughout the rest of the album, the creative riffs mesh well with the screeching vocals and the jazzy, punky beats, emoting as much energy from the disc as they did from the stage. "Protest Song '68" makes the drums a focal point, and guitarist David Sandstrom cooks up some nasty riffage in "Refused are Fucking Dead." The Shape of Punk to Come pushed the boundaries of hardcore music long before there was a real need to, and certainly long before it was cool. This is one of the most dynamic efforts out there.
8. Where Blood and Fire Bring Rest - Zao (1998)
If there were ever a case for a cursed band, it might just be Zao. Plagued by a history of clashing visions, studio deadlines, and conflicts of personality, Zao was the best band to constantly function with a revolving door policy. The fun began in 1997, when the band gained its ground in the Christian hardcore scene. Drummer Jesse Smith was the only member who wanted to reach a more secular audience, and feeling called for a more ministry-driven outlet, the other three members took their leave. Smith, who lived in WV, talked Brett Detar, who played guitar and sang for PA screamo act Pensive, into joining Zao on guitar. At the time, Pensive was recording a split EP with a local PA band called Seasons in the Field, which featured Dan Weyandt on bass and Russ Cogdell on guitar. This is when Brett Detar pulled in Weyandt, and Weyandt in turn roped in best friend and bandmate, Cogdell.
What they created was a thing of beauty. Weyandt was more than just a bass player. He was also a raspy screamer, and a pensive, tortured poet, scripting lyrics about the tragedies he was enduring in his life. Zao shifted its focus from the first iteration, though they never lost a step. If anything, they gained one. They never managed to bring in a bass player for the record, but they didn't really need one. Weyandt's trilly rasps rip straight through the middle of opening track "Lies of Serpents, River of Tears," written about the hypocrisy he and bandmates experienced at the hands of their church elders. "To Think of You is To Treasure an Absent Memory" is about the suicide of a close friend, and "Ravage Ritual" could have been taken straight from the book of Revelation. The album is groundbreaking, a watershed moment in hardcore history, an often imitated sliver of metal brilliance. Deftones guitarist Stephen Carpenter places it inside his top 5 albums of all time.
7. Something to Lust About - Scarlet (2003)
Scarlet/Spitfire front man Jon Spencer is one of my favorite hardcore front men. His lyrics are cynical and swanky, glamorous and guttural, both in Scarlet and Spitfire. He first started in Spitfire, then left for Scarlet, and the band recorded this blistering, genre-bursting EP - one of two EPs to make this list. On
Something to Lust About
, Spencer focused on the glamorous macabre, with lyrics like "let me smear your makeup, let me break your face, let me break your porcelain face." The line is likely exaggerated, but it's effective nonetheless, the band making the most out of its thrash meets mathrock meets dark industrial sound.
Scarlet recorded their first EP, Breaking the Dead Stare in 2000, then a full-length LP in 2004 called Cult Classic. Neither could touch the raw, gritty rhythm of 2003's Something to Lust About, which incorporated electronic beats and keys with their searing brand of metal. Spencer's throaty screams erupt through the recording, unique and instantly recognizable. Scarlet and Spitfire are Spencer's claims to fame, and it's only regrettable that he's no longer part of the hardcore game. Something to Lust About was a great sample of what the band could offer, and I could have only hoped that the LP the following year would be in the same vein in terms of quality.
6. Screamin' With the Deadguy Quintet - Deadguy (1996)
While Deadguy is known more for their
Fixation on a Coworker
LP and
Work Ethic
EP featuring legendary screamer Tim Singer, it was its final iteration, and final EP,
Screamin' With the Deadguy Quintet
, that got my attention. The sound was completely different, more bold and daring. Singer left, along with one of the guitar players, leaving second guitarist Crispy in line for a more direct role in the songwriting process, and bass player Pops to move over to vocals. His sonic growls come off high-pitched and guttural within the same breath.
The guitar work on the EP is unorthodox, from the creative guitar riffs to the discordant clean strums layered over over the top of the brutal electric chugs. Crispy adds backing howls and randomly muttered chimes on "Turk 182" and "(Escape From) the Fake Clink," a feature that comes off like the maniacal ravings of a mental asylum patient. The gimmick works for the style of music, which only forces me to wonder why the band decided to call it quits, and what the future would have promised for the Deadguy quintet. I first came across the track "Turk 182" on a Victory Records sampler way back in the day, making Deadguy one of the first secular hardcore bands I got into.
5. The Big Dirty - Every Time I Die (2007)
Following 2006's
Gutter Phenomenon
, ETID seemed to be sticking with a certain sort of theme with
The Big Dirty
, the band's fourth studio album. I've seen the band live three times, once on the tour for this record. During the set, they played standout track "We'rewolf" twice, as they, and the crowd, adored it. Every Time I Die is still going strong today, with the three core members, vocalist Keith Buckley, guitarist Jordan Buckley, and guitarist Andy Williams, still at the helm of the organization.
Keith Buckley is a poet, an English graduate from the University of Buffalo, his wordplay vibrant and his cynical chimes front and center on tracks like "No Son of Mine," "Pigs is Pigs," "We'rewolf," and "Imitation is the Sincerest Form of Battery." Keith paints portraits with his lyrics, creating images of absurd little skits playing out like random dreamscapes. The Buffalo, NY troubadours incorporate southern rock stylings into their deep and dark chugga chuggas and harmonic squeals, with Keith's high screams and gritty growls and soaring croons guiding the mayhem. The Big Dirty is a fun record, and even some of the weaker tracks, "Rendezvoo-doo" and "Rebel Without Applause," still claim interesting song titles.
4. Jesus Christ Bobby - Minus (2000)
Pronounced Mee-noos, this Icelandic noise troupe came into my life via recommendation. An Icelandic-American guy named Yosef recommended the band when we were talking about other Icelandic bands like Sigur Ros and Mum. I blindly went out and bought the album, and was far from disappointed. I couldn't understand a single word screamer Krummi was saying, but it didn't really matter. His sonic hisses were as brutal as the chaotic music flailing about behind him. Track two on the record, "Leisure," utilizes industrial machine guitar noise over the second guitar as it rips off a nasty little riff. Lost somewhere between Norwegian metal and Sweden's hardcore punk was Minus' brutal brand of Icelandic heaviness.
Since the borderline sacrilegious title Jesus Christ Bobby, the band has slipped with subtlety into a new genre in which Krummi trades in his sonic screams for a decent singing voice. 2003's Halldor Laxness and 2007's The Great Northern Whalekill saw to this departure, which attempted to reach a more mainstream audience with a more Guns 'N' Roses-type feel. It's decent, but it could never touch the raw, all-or-nothing brilliance of their debut album, taking listeners on an ride across their uneasy tundra.
3. Self Titled - Zao (2001)
There's an interesting backstory to Zao's fourth studio album,
Self Titled
. After
Where Blood and Fire Bring Rest
, guitarist Brett Detar left to purse his side band, The Juliana Theory, and to get away from control freak drummer, Jesse Smith, the only original Zao member. Guitarist Scott Mellinger joined in his place and the band recorded their third album,
Liberate Te Ex Inferis
. After touring the album, screamer Dan Weyandt left to accept a tattoo apprenticeship, and guitarist Russ Cogdell left with him. Down to Mellinger and Smith, the two headed to the studio without a single song written between them. On the drive from West Virginia to Pennsylvania, the two laid down the bones of the album in the car on the way to the studio.
What makes this record so unique is that the two young men crafted an album last minute in the studio, Mellinger incorporating reverb and delay for a more ambient, atmospheric guitar sound, and Smith taking on a set of electronic drums. The result was Zao's most experimental album to date, completely different from anything they'd done on their previous efforts. The two talked Weyandt into flying in and recording vocals after all the music was completed. He had nothing written specifically for the songs, but utilized the books of poems and disjointed writings he'd been keeping. The result was a happy accident that is my personal Zao record. "Five Year Winter" sounds closer to the old Zao, while "A Tool to Scream," the experimental "Witchunter," and the Jesse Smith-composed "FJL" venture into completely uncharted territory for the band. Deftones guitarist Stephen Carpenter touted Where Blood and Fire Bring Rest, so Scott Mellinger, who strangely resembles Carpenter, allowed the Deftones influence to seep through in his guitar work on Self Titled.
2. Self-Help - Spitfire (2006)
I came across Spitfire after Zao allowed them to invade their time slot at Cornerstone Music Festival. I bought the EP of the then three-piece Spitfire, and bought their full-length debut a year later. Before Jon Spencer rocked out in Scarlet, he made a stop by the Spitfire camp to record
The Slideshow Whiplash
EP. The band then broke up, Spencer joined Scarlet, Spencer left Scarlet, then Spitfire reunited, this time with Norma Jean axe man, Scottie Henry.
Self-Help
sounded like a nice, natural continuation of T
he Slideshow Whiplash
with a better recording, along with the specific style Scottie Henry had brought with him. Longtime Spitfire guitarist Matt Beck had weaved in and out of the band over the years, but made his presence once again known on this record. He's one of the best hardcore guitarists I've ever heard, technical and ready to bring everything from heavy chugs to frantic three-finger leads.
A friend, the same one who introduced me to Every Time I Die's debut
Last Night in Town
, told me about the upcoming Spitfire album, and the day it was released, I pounced on it. I found the guitars equally stylistic of both Henry and Beck, and the lyrics and vocal stylings uniquely Jon Spencer from his Scarlet days. Original drummer and bassist Chris Raines and Jimmy Reeves rounded out the line-up on tracks about society's dog eat dog mentality ("Meat Market"), a fantastical meeting with an angel ("Life and Limb"), overzealous faith healing ("Leap of Faith"), and a desperately-futile romance ("U.V.I.V."). When Scottie Henry left the band and Scarlet's "Dangerous" Dan Tulloh joined, the band headed back to the studio for a follow-up effort, a darker, more dismal
Cult Fiction
. It had a very different feel, and only standout track "Crossed" could match the frenzied regalia of
Self-Help
.
1. Hot Damn! - Every Time I Die (2003)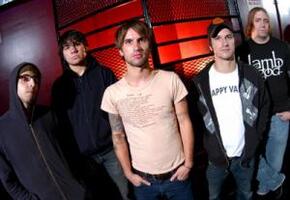 If the average listener were to take on
The Big Dirty
and then
Hot Damn!
, they'd swear ETID was featuring a different front man. This is hardly the case. Between
Hot Damn!
and ETID's third album,
Gutter Phenomenon
, Keith Buckley took vocal lessons to help him with his scream. The new scream sounded great, and while the one he owned the band's first two albums,
Last Night in Town
and
Hot Damn!
sound unpolished
and undeveloped, there is something endearing about it all the same. The song composition on this record is excellent, the vocals are great, and the lyrical content is poetic and unmatched and underappreciated. I read in an interview with Keith where he claimed that his words would be worth nothing until after he was dead. If that's not a poet's mentality, I don't know what is.
Hot Damn! starts fast and frantic with the hospital room rampage "Romeo A Go-Go," with lyrics like "your hopeless romantic now helplessly rheumatic, poets grinding teeth to powder, all my vowels are getting lost in the gauze, misinterpret courting for the cursing of a drooling fool." Keith knows his literature and loves to create uneasy skits with his lyrics, meshing hospital rooms with romance, Viennese waltzes with fat and happy executions, a ship captain with a crew of mutinous rats, and the final thoughts of an unrepentant killer. Despite having found his scream at this point, Keith sounded great nonetheless on this one, something authentic and feral about his early vocal style, with a great singing voice to boot.