As soon as I think I've seen all the good Netflix movies, another one pops out of nowhere to pleasantly surprise me. This happened to me yesterday, as I somehow came across
Paint it Black
, a movie with a simple enough plot, but one that's further explored to its utmost potential. The film could have gone many different ways, and while it certainly teeters on the unconventional revenge trope, it finds its ultimate haven in redemption.
Paint it Black
stars indie darling Alia Shawkat (
Arrested Development, Search Party, Green Room, Whip It
) as California girl Josie living for the moment, making her rent money as a nude model for an unnamed university (UCLA or USC) and starring in an independent movie - one that strangely starts to mirror her own life. It's on one of her modeling gigs that Josie is approached by Michael, a handsome, young artist who has just drawn her naked figure, and who randomly asks her if she wants to go swimming. The two sneak into Michael's mother's pool, complete with autumn leaves floating in the water. The two jump in fully clothed, and soon fall in love.
When Michael disappears on a quest to find himself, Josie and her besty, Pen, indulge in a night of live punk rock and utter drunkenness. The following morning, Josie's hangover is completely obliterated by the sobering phone call of a detective, informing Josie that Michael, who checked into a hotel under the moniker Oscar Wilde, has committed suicide by self-inflicted gunshot wound. The nearly destitute Josie is left with so many questions. Instead of having them answered, she's attacked at Michael's funeral by his legendary concert pianist mother, Meredith, who blames Josie for Michael's suicide.
Attempting to sooth over their strained relations, Josie shows up at the doorstep of Meredith. The matriarch deals with the grief of her son's death by drinking heavily, pounding out classical tunes on her lonely piano, and sobbing in complete isolation in the candlelit darkness of her sprawling house. Josie seems to deal with her grief in a slightly different way, drinking heavily, sure, but moving ahead with her life to make ends meet - starring in a low-budget indie movie called "In Purgatoria." This film within a film is set in the LA River about a hapless couple trying to string their lives together in Purgatory. It is through this indie flick that Josie tries to reconnect with the artsy Michael, living out an unpleasant allegory of her life with him, ultimately paralleling her life without him.
When Meredith bosses Josie around and patronizes her, Josie responds by slamming a fireplace poker into the top of Meredith's piano. Meredith then passive-aggressively ransacks Josie's apartment to steal the items that might better connect her with her departed son. In turn, Josie sneaks into Meredith's home while she is sleeping, stealing some of the items back, along with elegant dresses, priceless pieces of jewelry, and Michael's private journals. Meredith responds in kind, tracking down Josie on the set of "In Purgatoria" in an attempt to mow her down with her car.
At this point in the movie, I expected the tit-for-tat pendulum to swing back and forth until the two grieving women became ultra-violent, ending in the eventual deaths of both. The story takes an unexpected turn, with Meredith returning the journals to Josie, and with the matriarch inviting the starving artist to move into her house. It's at this point that Meredith starts to turn over a new leaf, resolved to nursing Josie back to physical and mental health. On the topic of leaves, there is a solitary leaf that serves as the movie's unofficial leitmotif. When in bed with Josie after their initial autumn swim, Michael had a leaf from the pool attached to him. This becomes a sad, sweet remnant of their first afternoon spent together when Josie finds it in the bed with her at a later point in the movie.
It's in Meredith's home where Josie starts to see visions of Michael, or the child version of him, moving about the halls as Meredith entertains her bourgeoisie dinner guests. While appreciative, Josie becomes a wallflower, spending her time reflecting on the depth of her relationship with Michael. She realizes how kind of a soul he was, how sheltered by his mother he had been, and just how cruel she (Josie) had been to him as a result. She realizes that it probably was her fault that Michael committed suicide. We find this realization, and the flashbacks of the events leading up to it all to the somber but blissful tune of Animal Collective's "Loch Raven."
Josie tries to make whatever amends she can. She's already admitted to Meredith, while sobbing inconsolably, that Michael's death was her fault. Josie then leaves LA behind, seeking out a pilgrimage of sorts. She unleashes the pages of Michael's journals and portraits to the whims of the desert winds, and tracks down the motel room where the tormented artists killed himself. As Meredith took her in, she turns around and does the same thing to the German indentured servant Greta, who initially found Michael's body. Not only is Greta a lifeline that still connects Josie to her departed lover, but she's the lost cause that Josie was herself when Meredith so tenderly looked after her.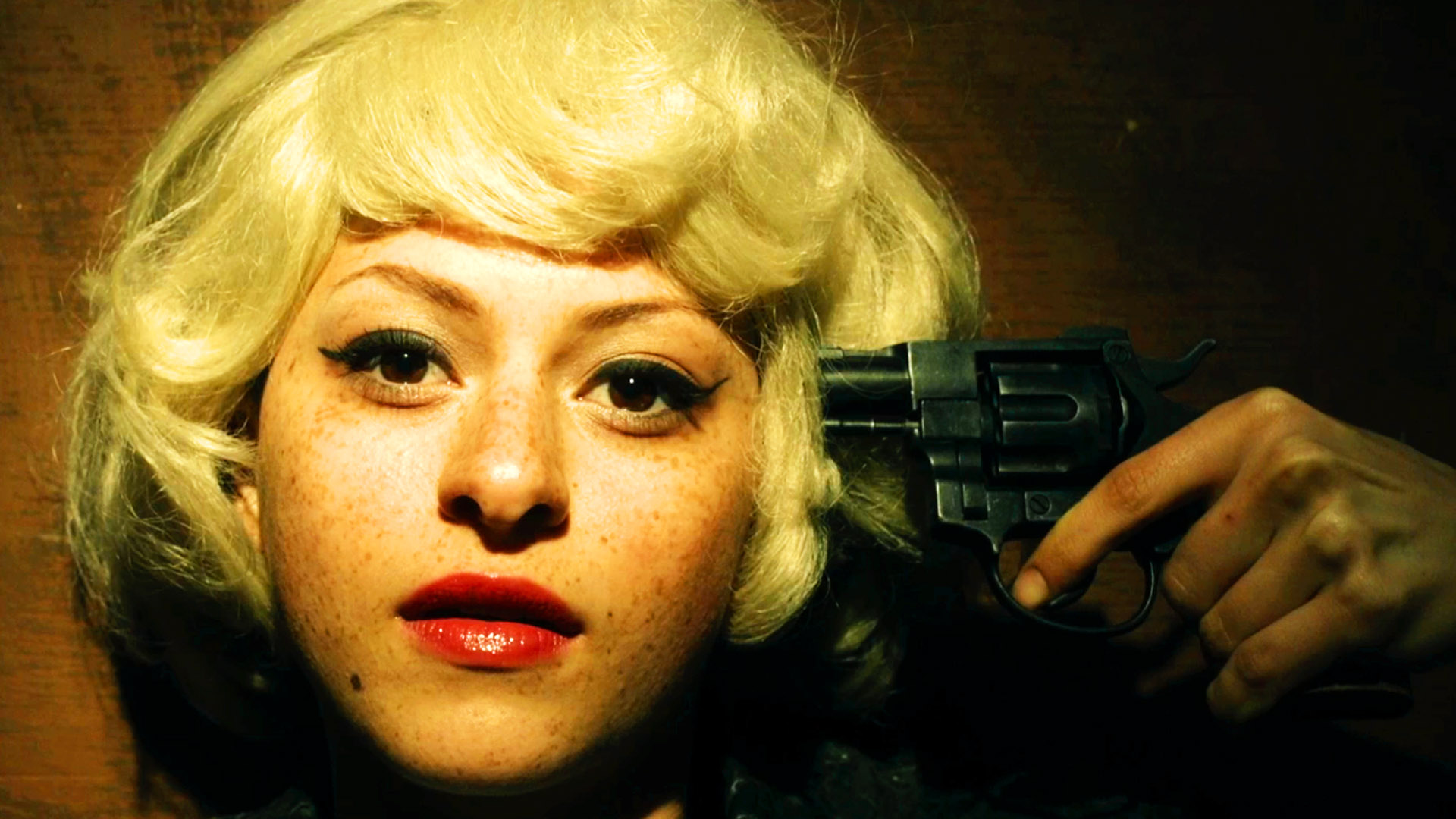 Paint it Black
takes a somber, vengeful vendetta and flips it on its head for the sake of tenderness. Actress Amber Tamblyn (
The Ring, The Grudge 2
) directed this indie gem, and based on it alone, I look forward to any of her other directorial endeavors. The film uses color isolation techniques, neon dream sequences, and homages to the Marilyn Monroes and the Tippy Hedrens of the past. Tamblyn does a great job of distinguishing the characters of Josie and Meredith, one gritty and struggling to keep her head above water, the other regal and accomplished, even if in a downtrodden sort of way. Michael is meanwhile stuck somewhere in-between, raised with privilege but drawn to the self-destructive, chronic underachiever in Josie. This movie was a pleasant surprise, and while I was expecting something between
Death Becomes Her
and
Cat Fight
, I instead got something more akin to
Stay
and
Bright Star
.